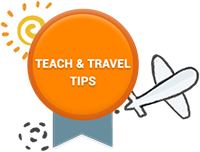 In recent years, South Korea has become one of the most popular countries in the world for English language teachers as there are so many jobs available all over the country. The other main reason for its surge in popularity is the particularly high salaries on offer. Teachers working in South Korea are usually able to save a great deal of money as the cost of living is quite low in comparison to wages. If you are happy to work overtime, you can comfortably earn as much as $6000 US per month.
South Korea's huge TEFL/TESOL industry is centred on the cities of Seoul and Busan, although there are also jobs available in many other areas of the country. The main source of employment is the country's large network of private English language schools known locally as 'hagwons', however, you will also find many jobs available in state run universities across the country.
If you are thinking about working in South Korea, it is a good idea to thoroughly research any schools or recruitment agencies that offer you work before you commit to anything. If you are already in Korea, then you can seek the advice of other English teachers in your local area as they will usually have a good idea regarding the job market. From outside of the country you can make use of the many online forums that are dedicated to teaching English in South Korea.
EFL Job Requirements
Teachers looking for work in South Korea need to be native English speakers from the USA, the UK, Canada, South Africa, Australia, New Zealand or Ireland. You will also require a university degree and a good quality TEFL/TESOL certificate. Any teacher who fulfils the criteria should have no trouble finding a teaching job here.
While working conditions in South Korea are generally good, it is worth remembering that the culture here is very different to that of the west. You may find that the details of your contract are not strictly adhered to and serve as more of a general outline to the job. If you are thinking of living and working here, it is a good idea to arrive with an open mind and be prepared to take things as they come. Some teachers find it hard to adapt to the different working practices, however, many also find that the high salaries on offer more than compensate for any inconveniences.
Questions to Ask your Employer
If you are offered a teaching job, there are several questions you should always ask before accepting the position. Obviously, there are a few things you will need to be clear on including your rate of pay, how many hours you will be working, as well as any other benefits that you are entitled to such as travel expenses or a housing allowance. You should also ask questions regarding the availability of materials for lesson planning and what other teaching resources you will have access to. It is also advisable to enquire about any work permits or visas you will need and whether the school will help organise these for you.
South Korea has a great deal to offer potential teachers as it is home to a wide variety of culture, entertainment and natural beauty. When you also add the high salaries on offer, it is easy to see why South Korea is one of the most popular destinations for teachers anywhere in the world.
Apply now & get certified to teach english abroad!