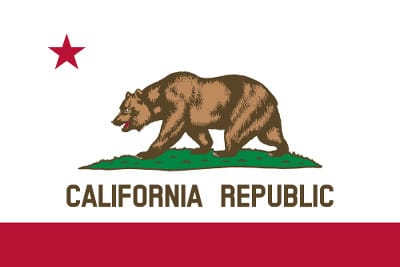 California is one of the most visited states in the USA and features countless exciting sites and attractions. California also has a long history that also influenced the gold industry a few hundred years ago. That's why California is referred to at "The Golden State" and millions of people were flocking to the state during the famous Gold Rush. In fact, this historic period combined with California's geographic location has led to waves of mass immigration from all parts of the world. Today, California is the most populous and most ethnically diverse location in the United States.
California is also geographically diverse. The northern part of the state, for example, is home to Sacramento, the capital city of California, as well as San Francisco and wine country. In fact, San Francisco is one of the most famous cities in America due to its unique location, history and architecture. Home of the world-famous Golden Gate Bridge, San Francisco does not only have exciting sites and attractions, but is also rich in history. Being one of the most liberal places in the country, San Francisco was greatly influenced by the hippie movements of the 60s and 70s and has also seen mass immigration from different parts of the world, especially Asia. Chinatown, Japantown and Koreatown count the highest numbers of Asians outside of the continent.
Napa Valley is the most popular location for wine making. Located just north of San Francisco, the valley attracts millions of visitors per year who are looking to spend a relaxing getaway in abundant nature. Whether you are looking for stylish hotels or family-owned winery visits, Napa Valley is the ideal place for you to stay or get away from the hectic daily life. You have choice between over 100 different wineries where you can enjoy unforgettable wine tastings and stunning views. A lot of vintners even invite you to tour they wine cellars and caves for a behind-the-scenes experience.
Down south, you will not only find some of the finest beaches on the West Coast but also glamorous cities, such as Los Angeles. No visit to California would be complete without exploring this exciting metropolis. Whether you want to see where the celebrities live in Beverly Hills and Hollywood, want to shop for expensive designer goods at Rodeo Drive, or spend a day at a premier amusement park, you can do all that here. It's always sunny in LA, which is great if you plan to visit Venice Beach or head a little further north to Santa Monica Pier. Everything is possible in Los Angeles and you will never get bored.
California also stands for high-quality education, which is most evident when looking at some of the finest schools in the country that are located here: Stanford, Berkeley and UCLA, to name a few. Our TEFL/TESOL program in California is led by experienced teacher trainers who have worked abroad in the field of ESL for many years. Are you ready to start your exciting journey of teaching English as a foreign language around the world?
Apply now & get certified to teach english abroad!