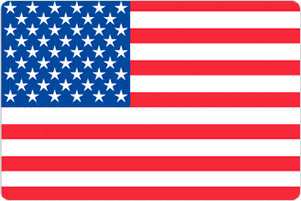 San Diego is California's second largest city and is located on the South West coast of the Usa, close to the border with Mexico. It has an excellent climate, sandy beaches, a fantastic cultural mix and a huge range of attractions for you to explore when not at study on your tefl/tesol course.
The city has so much to offer the visitor that you really need a Guide book to take it all in. Here are a few of the best known attractions. An easy safe crossing into Mexico for day trips, San Diego Zoo housing over 3,700 animals, Balboa Park, with gardens, numerous bike and hike trails, and much more. The city center itself has, due to the ethnic mix, a huge variety of restaurants and cafés and its' proximity to the coast produces outstanding seafood, particularly in the historic 'Gas Lamp' area. The air and space museum is also world renowned.
It would be difficult to find a city with so much to offer overall in terms of climate, natural beauty and bounty, attractions and safety. The combination of this and the excellent school and staff available for your TEFL/tesol certificate makes San Diego an excellent choice for your course.
Apply now & get certified to teach english abroad!
The School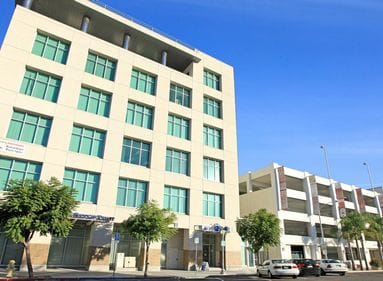 The San Diego school is ideally positioned in the downtown area of the city, providing excellent transport links and putting you within easy access of a whole range of local attractions. The school is well equipped with five classrooms, central photocopying facilities, Wi-Fi and a well stocked resource library. There is also a tea and coffee making area and a small shop for snacks and general refreshment.
The course usually operates in the first week of any month in which it is offered. Your TEFL/TESOL course is scheduled between 5:30 p.m. and 10:30 p.m. Wednesday through Friday and then 9:00 a.m. to 6:00 p.m. at the weekend, both Saturday and Sunday.
Typical trainee numbers on each course is around 10 to 12, this allows for plenty of individual attention from our trainers and excellent opportunities for interaction with your fellow trainees. The school is an actual language teaching center so this gives you the added bonus of being able to complete your teaching practice component of the TEFL/TESOL certificate with real English Language Learners.
Accommodation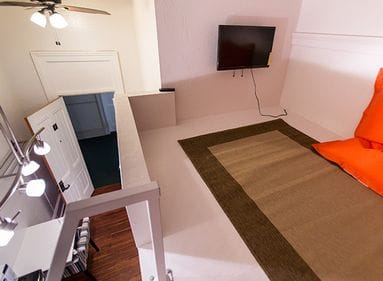 As you would expect from a city of its size, San Diego has a full range of accommodation options from budget rooms to the opulence of luxury hotels. On the budget side of the scale we can recommend a couple of choices, each has the option of private or shared rooms, includes free Wi-Fi, and has a communal kitchen featuring microwave, fridge, basic cooking utensils and a laundry. One is located in an area known as 'Little Italy' not too far from the school and the other is just a short walk to the school.
There is also a range of self-contained studio apartments close to the school for those wishing for a little more privacy. These have air-conditioning, a private kitchen plus free Wi-Fi and cable TV in each room. You may confirm your particular accommodation choice once you have completed the course registration.
Course dates
2022
11 August 2022 - 15 August
13 October 2022 - 17 October
Course fees
The total price is divided into: deposit and balance.
The deposit may be paid via a) credit card b) Paypal c) wire transfer d) Western Union.
The balance of the course fee must be paid by cash, PayPal or bank transfer directly to the training center on the first day of the course.
Deposit
US$ 700
to be paid in advance
+
Balance
US$ 595
to be paid on arrival
Accomodation Fees
The accommodation fees are not part of the course price and you are free to choose whichever accommodation option you prefer.
You are not obliged to use the accommodation provided by the school and you are welcome to make your own accommodation arrangements. If you choose to use our accommodation, it should be paid for either by cash, PayPal or bank transfer directly to the school at the start of the course.
per night
US$ 44
(to be paid on arrival)
To be booked directly through ITH Zoo Hostel San Diego