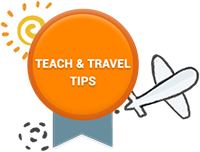 Traditionally the EFL Job market in Venezuela has not been particularly big due to the country's political and economic difficulties; however, the market has started to improve in recent years as the country has become more stable. Individual wealth in the country has gradually increased due to the decline in inflation and unemployment, which has in turn led to an increasing need for teachers in many parts of the country. If you are looking for somewhere slightly off the beaten track then Venezuela is certainly worth looking at as it offers a good mix of natural beauty and cultural diversity.
The main areas for jobs are in the country's larger cities such as Valencia, Maracaibo and particularly in the capital city, Caracas. Most opportunities are likely to found in the tourism industry and within international corporations as both these areas are expanding at a relatively fast pace in Venezuela. You may also find some positions available in state run schools as many of these teach an English program at primary level.
You are unlikely to be able to save a great deal of money while working in Venezuela as teacher's salaries are relatively low compared to some other countries in the region. However, the cost of living is low here so you may be able to earn enough to enable you to explore this wonderful part of the South American continent.
Questions to Ask your Employer
If you are offered a teaching job there are several questions you should always ask before accepting the position. Obviously, there are a few things you will need to be clear on including your rate of pay, how many hours you will be working, as well as any other benefits that you are entitled to such as travel expenses or a housing allowance. You should also ask questions regarding the availability of materials for lesson planning and what other teaching resources you will have access to. It is also advisable to enquire about any work permits or visas you will need and whether the school will help organise these for you.
Apply now & get certified to teach english abroad!