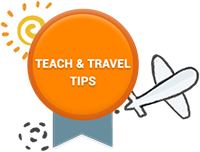 The demand for English language teachers in Chile has been steadily growing in recent years due to the country's healthy economy. This steady growth can be seen in all sections of the TEFL/TESOL market, particularly in the areas of business English and teaching English to young learners. Teachers who possess a TEFL/TESOL certificate should have little difficulty finding a position in Chile as there are a large number of English language schools all over the country, however, many of the better paid jobs are likely to be found in the capital city, Santiago.
Starting your job search is generally quite easy as many English language schools in Chile tend to advertise their vacant positions on TEFL/TESOL related websites. If you are intending to look for work once you are in the country we recommend that you contact these schools six months before you plan to arrive. You also need to make sure that you have a professional and up to date resume that contains all the necessary information regarding your education, teaching qualifications and any relevant work experience.
In Chile you should make contact with as many English language schools that you can find, even if they are not actually advertising for new staff members. You can use local newspapers, online language school directories, yellow pages and TEFL/TESOL related websites to find the necessary contact information. If the schools you contact are not currently looking for new teachers you should still keep in touch with them as new positions often become available at short notice.
The best time to apply for Jobs in Chile is around October as the following school year begins in March, however, you should be prepared to wait until the New Year before receiving a reply. It is also a good idea to contact schools at the start of the school year as these pre-arranged jobs often fall through meaning schools will be looking for last minute replacements.
If your application is successful the next step will be an interview which can be conducted by telephone or face to face. If the interview is a success and you are offered the position you will be expected to make a decision within a couple of days.
EFL Job Expectations
Before starting work in Chile there are a few things you will need to be clear on including your rate of pay, how many hours you will be working, as well as any other benefits that you are entitled to. You should also ask questions regarding the availability of materials for lesson planning and what other teaching resources you will have access to.
In order to gain a work permit you will first need a written contract so it is best to speak to the school to ask them for help with your application. This application process can take some time but most schools in Chile are very good at finding ways of extending your entry visa. You will also find that many schools expect their new staff members to complete an in house training program, although this is not always required if you possess a full TEFL/TESOL certificate.
Teaching hours vary from school to school but it is common to have classes in the early morning and then later in the day. Class sizes can also vary, with anything from a single student to a class of 12 being the normal range.
Apply now & get certified to teach english abroad!