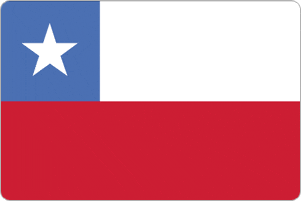 Capital city
Santiago
Language
Spanish
Currency
Pesos
Typical TEFL teacher salary

US$500
Major TEFL locations
Santiago
Punta Arenas
The Country
Chile has a stronger economy in comparison to many other South American countries. This economic growth has also resulted in a growth of English teaching positions. Chile particularly has a growing market for positions teaching English to young learners and teaching business English. Many private language schools are located in the capital city of Santiago; therefore, trained English teachers should find it fairly easy to find a teaching position.
When looking for a job teaching English in Chile it is advisable to make contact with schools six months before you plan to arrive. Many schools advertise teaching vacancies on the main TEFL/TESOL job web sites; however, you can also take a proactive approach and contact schools directly. School contact information can be found in national newspapers (English and Spanish), as well as in business and language school directories. Take note of which schools you contact and remember to follow up your application with them as demand for teachers of English can change from week to week, or even from day to day. You should ensure that your CV/resume highlights your education, international experience and of course your TEFL/TESOL training and teaching experience.
As the school year begins at the end of March, it is advisable to submit your applications by the October prior to the start of the next school year. However, by applying early you may not receive a response before the New Year. It is usual for some schools to employ at the last minute so don't worry if you are unable to submit your application in October, just ensure it is sent in before March.
Any school that expresses an interest in you will require an interview which can take place in person or by telephone. If you are hired, the school is obligated to provide you with a contract as you require this to obtain a work visa. Without a contract you will be forced to leave the country every 3 months to renew your visitor's visa. Government departments in Chile can be slow so acquiring paperwork can be a long process. However, local schools are experienced at prolonging your visitor's visa. Also the majority of schools have their own teacher training program; however, this will not be necessary for those who have passed a certified TEFL/TESOL 4-week course or a 100-hour online TEFL/TESOL course.
You will normally find that your class sizes range from one to twelve students. Your teaching timetable can also vary with classes being held early in the morning, late afternoon or early evening. However, this does give you time in the afternoons to plan lessons, sleep, conduct private lessons or any other activity you choose.
Sample Job offer for Teaching English in Chile
"Native English teachers required by Codelco Norte, based in Calama, the northern area of Chile's largest copper mining company. Salary is 1.000.000 Chilean pesos, paid monthly. The position also offers room and board plus transport to and from your present location."