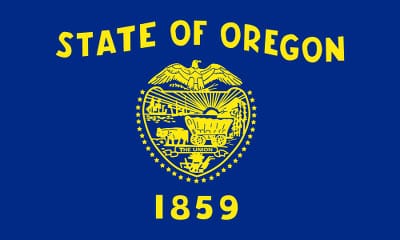 Visit Oregon and you will be impressed by the natural wonders of the state. Located on the Pacific Coast, Oregon boasts beautiful beaches, scenic bays, and picturesque coasts. On top of that, the state is filled with forests, rivers, lakes and tall mountains, making it a wonderland for outdoor enthusiasts. Join our TEFL/TESOL course in Oregon and you will become a certified teacher of English as a foreign language and have the chance to spend a month in one of America's most beautiful states.
Oregon counts numerous natural sites and attractions. The tallest mountain in the state, Mt. Hood, is one of the state's most visited attractions. Mt. Hood's peak is covered in snow throughout the entire year, as it is made up of eleven glaciers. This makes Mt. Hood a winter sports destination in all seasons. Six skiing areas with exciting slopes invite you to experience Oregon in a different way. In the spring, the area around Mt. Hood is filled with colorful wildflowers and scented lavender bushes. In the summer and fall months, the area boasts stunning apple and pear trees that are waiting for you to harvest the ripe fruits. Oregon's part of the Columbia River Gorge is another wonderful site you shouldn't miss. While it is a scenic area with lots of great hiking and biking opportunities, the gorge is also a great place for windsurfing. Visit the fascinating Crater Lake, the deepest lake in the United States. This interesting lake was formed in the remains of an ancient volcano over millions of years ago.
Oregon boasts a coastline of over 360 miles featuring lovely beach towns, picturesque cliffs, and exceptional wildlife. There are also nine lighthouses along the coast of Oregon. Five lighthouses are still being used today, while the others are designated historic monuments. Surfers also love Oregon for its big waves and outstanding beaches. On top of that, you can even go on whale watching cruises and spot some of the largest marine mammals on earth. While gray whales are frequently spotted in the Pacific at Oregon, you can even sometimes see Orcas on their way up north.
The city of Portland is a great example of smart urban planning. Due to its beautiful architecture and relaxing atmosphere, it is also known as The City of Roses. Come to Portland and you will be amazed by the vast options in entertainment, recreation and fine dining. The city is located at the foot of Mt. Hood and offers splendid views of the snowy peak. Forest Park is one of Portland's most exciting attractions, as it offers over 40 miles premier hiking trails making it one of America's largest urban parks.
As you can see, Oregon is a thrilling destination if you are looking for a TEFL/TESOL training location. You will not only learn everything you need to succeed in ESL classrooms around the world, but you will also spend four weeks in an exciting state in the USA.
Apply now & get certified to teach english abroad!