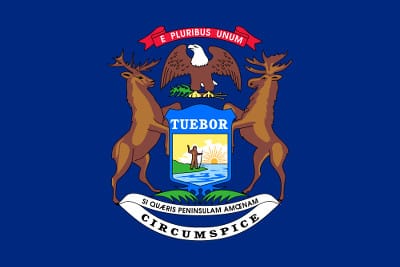 Michigan is a great location for anyone looking to spend quality time outdoors and explore vibrant cities. The state is located at the Great Lakes and consists of two individual peninsulas. Whether you want to go hiking, trekking, biking, fishing, boating or even horseback riding, you will find a suitable place for it in Michigan. The Great Lakes, rivers forests and mountains of Michigan are the perfect urban escape where you can forget the hustle and bustle of the city and engage in high-quality outdoor activities. When you come to Michigan for your TEFL/TESOL course, you will have four weeks to explore all the beautiful places in Michigan.
Come to Michigan and you will find 97 different state parks, 6 state forests and 4 national parks where you can enjoy the beautiful natural wonders of the state. Most people coming to Michigan decide to rent a cabin in the forest or go camping to sleep under the stars to take in all of the pure and untouched nature available in Michigan. At the same time, you can also find various historic sites, landmarks and even museums in the various parks across the state. As you can see, Michigan is the perfect place for nature and history.
Winter in Michigan is great for winter sports enthusiasts as it has over 6,500 individual trails for cross-country skiing and snowmobiling. If you enjoy downhill skiing and snowboarding, check out over 1,000 slopes at 51 ski areas connected with 260 lifts. Cross-country skiing fans will find over 3,000 miles of designated trails just for them. As you can see, Michigan's winter leaves nothing to be desired.
When in Michigan, be sure to visit the iconic Revolutionary Era Mackinac Island. This unique destination seems to be stuck in the past because you will not find any cars here, but rather horses transporting people and goods. On top of that, Mackinac Island is home to some of the best restaurants in the region and has numerous family-owned boutiques, hotels, and coffee shops that are waiting to be discovered by you. Adding to that Michigan's museums, wineries, lighthouses, waterparks, and zoos, and you will not get bored when staying here for your TEFL/TESOL course.
Education is another reason why so many people come to Michigan. Millions of students from America and all parts of the world are eager to enroll in Michigan universities and colleges for their renowned programs. Our training center in Michigan is committed to providing you with the best TEFL/TESOL courses in the field. Our experienced teacher trainers are working hard to pass on their skills and knowledge to all our trainees in the center. You will have the time of your life when spending four weeks in Michigan for our training course.
Apply now & get certified to teach english abroad!