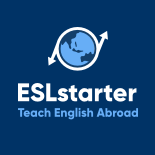 ESLstarter offers you exciting teaching opportunities in some of the world's most incredible destinations.
For over 10 years, we have helped people embark on new journeys and achieve life-changing experiences. As previous teachers ourselves, we understand the importance of the getting the journey right.
Our highly trained staff all started out teaching English overseas and TEFL is our passion! We truly believe that English language education can transform lives for the better. Teaching abroad also gives you the chance to flourish, inspire and encourage positive change in local communities, wherever you end up traveling to.
ESLstarter is a resource for anybody who is interested in teaching abroad. We've helped over 5,000 teachers into TEFL job, internship and volunteer roles since 2008. You can be sure of lots of hands-on assistance and advice when you need it from our dedicated job placement team.
Our TEFL programs are carefully screened to ensure you will have the best possible experience! We want you to enjoy your time overseas, whether you are teaching email etiquette to a group of Japanese business people or teaching phonics to a class of Colombian pre-schoolers! Wherever you go with TEFL, we're excited to learn about you and support you in your journey.
Find out how we can help you secure your dream teaching job overseas. Contact us today to check your options!