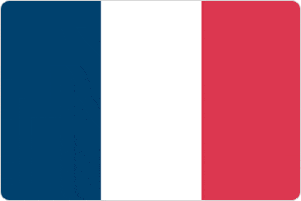 Capital city
Paris
Language
French and Flemish
Currency
Euro
Typical TEFL teacher salary

16 euros per hour
Major TEFL locations
Paris and major cities
The Country
France is considered a first class location for qualified TEFL/TESOL teachers. The majority of teaching jobs are in Paris; however, there are also many teaching opportunities available in the other major cities. Prior business experience or knowledge will be advantageous as the language schools in Paris mainly provide business English courses. Additionally, non-EU passport holders find France one of the easier countries in which to find English teaching positions. In France, business experience and qualifications are often more desirable than advanced TEFL/TESOL qualifications. Anyone who has a working knowledge of French, as well as a BA degree and is at ease in a business environment will have no difficulty securing an English teaching position.
If you have experience teaching English as a Foreign Language, a basic knowledge of French and an EU passport, securing an English teaching position in France should be no trouble at all. If you are patient and flexible you should also have no trouble securing a position without all of the above qualifications.
Unlike some other countries it is also easy to secure a teaching position in France without actually being in the country. You can start hunting for a job from your home country, or wherever you are presently teaching English or taking your TEFL/TESOL training. Besides teaching English in language schools in France, you can earn an additional income by tutoring private lessons in people's homes, you can earn 15-20 euro per lesson. For US citizens, France can provide a Teaching Assistantship Program and information for this program can be found via the French Ministry of Education.
TEFL Courses in Paris
TEFL Courses in Brittany
Sample Job offer for Teaching English in France
"English language school located in Paris requires a qualified TEFL teacher with experience in producing and administering customised courses. Ideally, the applicant should be proficient in modifying classes to suit individual requirements and enjoy listening and pronunciation teaching styles. Specific technology is used at our school to accelerate learning and develop listening. Mainly our tuition is one-to-one; at most, our class size is a maximum of four. To begin with the position is for a part time teacher with an initial salary of 22 euro per hour."