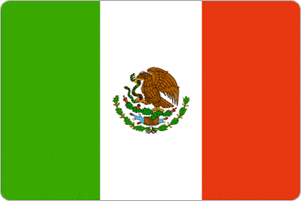 Capital city
Mexico City
Language
Mexican Spanish
Currency
Peso
Typical TEFL teacher salary

8,000 Pesos per month
The Country
Because Mexico is so close to the USA, you will find a large number of teaching positions available across the country. There is a huge demand for native English speaking teachers in practically every city and town. Due to this, qualified teachers should have no trouble finding work. Those with a background in business will have no difficulty finding positions as there is also a demand for teachers of business English.
Generally, the requirements for securing a desirable English teaching position in Mexico are a university degree and a 4-week internationally accepted TEFL/TESOL certificate. Some larger language schools will accept just a TEFL/TESOL certificate, while the majority of universities desire teachers who have a Master's degree. For the most part, teachers require a degree and a TEFL/TESOL certificate to find a job teaching English in Mexico.
You can apply for jobs teaching English in Mexico from overseas as telephone interviews are becoming increasingly common, although many employers still prefer face to face interviews. The majority of English teaching jobs are found in private language schools or universities, although some teachers find positions teaching in primary or secondary schools, or in the business sector. Language school positions do not offer the same level of pay and benefits as university jobs, however, finding a position in a language school is far easier than at a university because there are more jobs available and experience is not always essential. Universities in Mexico usually only hire prior to each new term, whereas teaching jobs in language schools are generally available throughout the year.
TEFL Courses in Chiapas
TEFL Courses in Mexico City
Sample Job offer for Teaching English in Mexico
"Our positions teaching English provide you with an excellent opportunity to develop your teaching ability while embracing the tradition and beauty of Mexican culture. We are looking for motivated teachers to become part of our company. Our requirements are: native English speaker, teaching certificate or degree in teaching, prepared to commit for one year, capable of planning lessons and enjoy tutoring groups of people, an aspiration to work and live in a cultural environment. Our benefits include: an attractive local salary of $80 Pesos an hour or $60 Pesos for 45 minutes (rising to $86 and $65 Pesos after one year), free French, Spanish and German lessons, a chance to teach classes of young learners and adults, reimbursement of FM3 after being employed for one year, a chance to progress to administrative/management roles, long servicing employees are entitled to relocate to any of our language centres around the world."