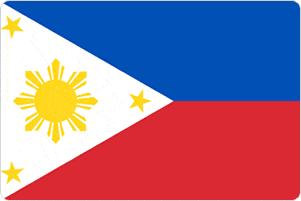 Capital city
Manila
Language
Filipino, English
Currency
Peso (PSP)
Typical TEFL teacher salary

US$600 per month
Major TEFL locations
Manilla
other large cities
The Country
If teaching English in the Philippines appeals to you, we highly recommend that you fully research the choices available to you before you go. We advise that you try arranging interviews from your home country, although the majority of employers will prefer to meet you face to face. Many Filipino nationals have the relevant qualifications to apply for the positions themselves; therefore foreigners may have difficulty finding a teaching job. However, your job opportunities increase if you are an American citizen. The majority of the jobs available are with language schools, larger companies and international schools. You will find yourself teaching mainly Korean and Japanese students at the international schools.
A small number of government or privately run schools in the Philippines will also employ foreigners or native speakers. As previously mentioned, large international companies, language schools and international schools (Korean, American, and British etc.) provide some job opportunities. Most of the positions available can be found in the larger cities, particularly Manila. The more rural areas and remote islands in the Philippines always have volunteer teaching positions available. To secure a paid position in the Philippines you will need to have a TEFL/TESOL certificate or similar, along with a university degree. The majority of positions also request a specific area of university study.
TEFL Courses in Cebu
Sample Job offer for Teaching English in the Philippines
"Our company seeks an English specialist to be in charge of overseeing development of the English language communication ability of our Customer Service Agents and other members of staff. The role includes organising English language courses for new employees, developing efficient monitoring and training resolutions and certifying the efficiency of the English Communications course in association with other support groups. We require a university degree, particularly in one of these areas: English Language and Literature, English as a Second Language, Communications or Speech Therapy. Applicants should also: be experienced and familiar with the US culture, have experience in tutoring English communication skills, have similar experience in efficient monitoring, training and coaching, as well as excellent planning, delegating and organisational skills. Benefits and compensation include: 30,000–40,000 Philippine Pesos per month, work permit, night differential, meal allowance, transport allowance, study assistance benefit, medical insurance, holiday and sick pay, yearly salary reviews and 13 months pay."