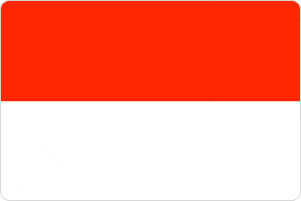 Capital city
Jakarta
Language
Indonesian
Currency
Rupiah
Typical TEFL teacher salary

8 - 9,000,000 (Rupiah per month)
Major TEFL locations
Jakarta
Surabaya
Bandung
Yogyakarta
Country Wide
The Country
Indonesia is the fourth most populated country in the world and many of its residents choose to learn English. As a result, there any many jobs available for TEFL/TESOL qualified teachers. Jobs teaching English in Indonesia range from state to the private sector. The majority of teachers find positions on Indonesia's main island of Java. However, the country's other islands also have many teaching positions available.
The essential requirement to teach English in Indonesia is TEFL/TESOL Certification from an accepted course provider; this is required by the government in order to have your work visa application approved. University degrees are preferred by some schools, but not all. The majority of schools also appreciate a sense of humour and a positive outlook.
Indonesia is a great location to start your TEFL/TESOL teaching career, although salaries are low compared to many other Asian countries. However, the cost of living is also low so a teacher's salary can go a long way.
As in all countries you can look for job information on notice boards and web forums. You should search for schools that provide an allowance for housing as well as or rather than offering housing, this allows you more choices. Always inspect any housing offered before accepting. To enter Indonesia you will require a return air ticket. Half the fare should be reimbursed to you by your school after 3 months with the remainder paid back to you at the end of your contract. You should always ensure that you check any job offer with the actual contract before you sign anything.
TEFL Courses in Surabaya
Sample Job offer for teaching English in Indonesia
"We are looking for native English speakers with TEFL/TESOL Certification to teach classes of adults and children from beginners to advanced levels. The average class size is 10 students with a maximum of 14 students. A comprehensive program is provided to all our teachers, the program includes lesson plans for each level and course. However, teachers are free to modify the course materials to suit the students learning styles. To support our teachers with organising extra or adjusted material our school provides a wide ranging resource centre and library.
We require qualified teachers who have an accepted TEFL Certificate. Previous teaching experience would be advantageous but not essential. We value teachers with a sense of humour, a positive outlook, enthusiasm and people who can adapt to new situations and life in a developing tropical country.
For teaching 25 hours per week and 15 office hours per week we offer qualified teachers 8,000,000 Rupiah a month, a return air ticket from your present location, a full working visa, 14 days holiday per year plus national holidays, accommodation with fellow teachers, health insurance and career development opportunities."