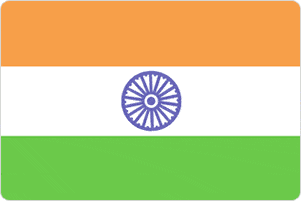 Capital city
New Delhi
Language
Hindi, Kannada
Currency
Rupee (INR)
Typical TEFL teacher salary

US$400/month
Major TEFL locations
Major cities
The Country
There are many jobs available teaching English in India, however, these are mainly as volunteers. qualified EFL teachers can find unpaid employment through a variety of voluntary placement agencies. Paid teaching positions are available, particularly in the business sector; however, competition for these positions is strong. A large amount of teaching experience, a degree in education and a TEFL/TESOL certificate or similar are usually required. The majority of positions teaching English in India involve working around 20-25 hours per week over six days.
In India, knowledge is highly regarded, students are encouraged to learn as much as possible and teachers in India receive the utmost respect. Positions teaching English in India can be difficult to secure because English is generally spoken all over the country, therefore schools usually seek employees who are prepared to commit to long term contracts. Before starting your search for a teaching position you must ensure your legal documents are arranged. The majority of language schools, of which there are many, can be found in the larger cities located around India. Many of these positions are offered as part-time to begin with and require you to be available in the evenings. Corporate training can help you get started in India, but you will probably need qualifications or experience in the areas of commerce and business. Particularly in the BPO business, teachers are required as voice and accent coaches, with companies all over India requiring teachers to demonstrate interview techniques, dress, general manners and politeness, etc.
TEFL Courses in Kolkata
Sample Job offer for Teaching English in India
"Our company is looking for a native English speaker originating from USA/Canada for a contract of one year (option to extend if mutually agreed) based in Bangalore, India. The successful trainer/language specialist will receive extensive training. We require a TEFL/CELTA/TESOL certificate, knowledge of Windows and Office and 2 years teaching experience would be preferable. Job description includes teaching a formal pronunciation program, holding interviews, marking assessments, supplying individual tutoring and quality checking sessions to develop clear communication. We offer: salary of INR. 47,000 per month (after tax and deductions), paid economy class flight to and from Bangalore, paid furnished housing, inclusive training (4-6 weeks), 2 weeks holiday following 6 months employment, daily collection to and from the office, meals and office canteen, visa processing fee and vaccination charges are also covered."