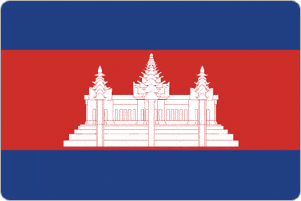 Capital city
Phnom Penh
Language
Khmer
Currency
Riel (US Dollar accepted)
Typical TEFL teacher salary

US $ 8 per hour
Major TEFL locations
Phnom Penh
The Country
As Cambodia is a developing nation, the majority of English teaching jobs have traditionally been on a voluntary basis. However, this has begun to change in recent years and knowledge of English for Cambodian nationals is now essential for good employment prospects. For foreigners to secure popular English teaching jobs, TEFL/TESOL training has become increasingly desired. Salaries are fairly low in Cambodia, but so is the cost of living.
It is generally quite difficult to find a job teaching English in Cambodia without actually being in the country, however, you can try contacting some schools via e-mail to advise them you will be coming. Ideally, the best way to find an English teaching job in Cambodia is to hand over your CV/resume at various schools and meet the teachers and other staff members while you are there. The fastest and cheapest way to move around town is by using motorbike taxis, you may also find that drivers have information they can give you about schools in the area. You should also ensure that you leave a contact telephone number so schools can respond to you.
TEFL Courses in Siem Reap
TEFL Courses in Phnom Penh
Sample Job offer for Teaching English in Cambodia
"TEFL qualified professional required to teach English in Cambodia. The position comes with an attractive local salary of US$ 7-10 per hour for providing first rate English lessons to teenagers and adults. We offer a flexible working schedule with classes grouped collectively. Our school is located in Barrambang, Cambodia. Experience and/or TEFL certificate essential."