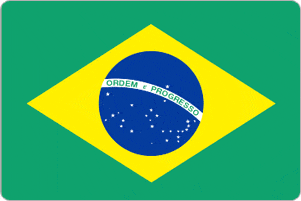 Capital city
Brasilia
Language
Portuguese
Currency
Real
Typical TEFL teacher salary

US$900 per month
Major TEFL locations
Sao Paulo
Rio de Janeiro
The Country
Being the fifth largest country in the world, Brazil offers great opportunities for English teachers, particularly in larger cities. Good quality teaching work is usually easy to come by for TEFL/TESOL qualified teachers. However, acquiring an English teaching job in Brazil is much more difficult when you are not actually in the country, although it is not impossible. Teaching salaries in Brazil are generally good enough to provide a comfortable standard of living.
The majority of people who arrive in Brazil looking for an English teaching position use a visitor's visa giving them time to contact schools looking for employment once they arrive in the country. Brazil has English language schools all over the country, in smaller locations and larger cities. However, Brazil is an exception to most other countries as the larger cities do not necessarily offer better jobs. Deciding to teach English in a smaller Brazilian town will see you winning respect from the locals for choosing to embrace their culture and town, you will find them grateful and welcoming. This choice will give you a unique experience while in Brazil.
You can expect fairly low salaries in Brazil; however, you can often pick up individual students which can in some cases double your income. Get to know the local people and offer your services as a professional, qualified English teacher. When you have gained some individual students, they could potentially recommend you to relatives and friends.
As with all South American countries, finding a job teaching English in Brazil is most effective when you are in the country. The best way is to research Brazil and decide where you want to teach and just go there. By doing this, prospective employees will see that not only are you interested in the destination but you have also shown your desire and determination by travelling there. Schools respect teachers who have made the effort to travel and this can count in your favour when applying for jobs.
You should check TEFL/TESOL web sites as sometimes positions teaching English in Brazil are advertised online. Language schools directories and internet search engines can also help you to contact schools directly.
TEFL Courses in Natal
Sample Job offer for Teaching English in Brazil
"Seeking young and energetic TEFL trained English teachers aged 22 to 32 from the USA or Canada. Our organisation develops customised language support for other organisations in Sao Paulo, Brazil. The job involves teaching business executives at their offices individually or in small groups. Our organisation will provide training, ongoing assistance and support to find accommodation. Contracts run for six months and can be renewed."